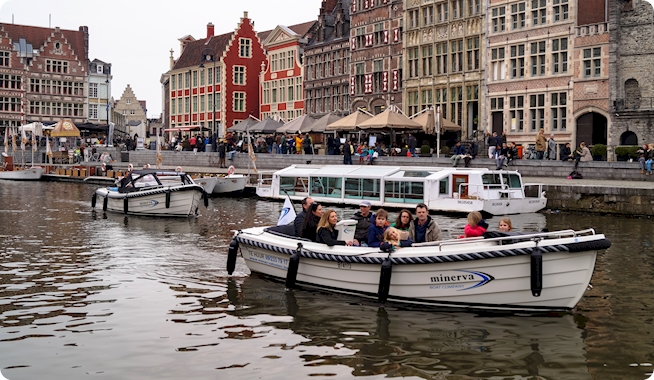 This article was originally published in relevant industry outlets across Belgium, France and Holland.
Kinesis, one of the world's leading providers of telematics, is working alongside the Minerva Boat Company in Belgium to help improve the safety of tourists exploring the historic waterways of Ghent.
Minerva has equipped their entire fleet of Cabrio boats and Luxury sloops with Kinesis GPS trackers. The move allows the company to now monitor the location of boats and guide users if they become lost along the way. The devices will help to establish and enforce 'no-go' areas with the use of geofencing and automatic alarms. Management will also have the power to collect evidence if a boat is returned damaged.
"A typical rental of one of our standard boats will allow the user to explore the picturesque Leie River, passing beautiful gardens as well as the painter's villages St.-Martens-Latem and Deurle," commented Andy De Kegel, Owner Minerva Boat Company. "Each day a limited number of boats can explore the historic city of Ghent. Due to heavy boat traffic in the city centre, things can get quite congested and this is one of the reasons why we decided to invest in Kinesis tracking – the experience and safety of individuals who use our service is absolutely essential."
With Kinesis, Minerva can accurately monitor the location of each boat from any internet enabled device. This allows staff to advise hirers on suitable routes and intervene if a boat goes off course or appears to be lost. Geofencing, using the GPS to create a virtual geographic boundary, combined with automatic alarms, gives Minerva the power to establish and enforce 'no-go' areas for safety reasons or to meet the conditions of hire. Tracking can also be used to collect essential evidence if a boat is returned damaged.
"The live GPS tracking from Kinesis helps us improve our customer experience and safety with timely interventions and guidance," continued Andy De Kegel. "The Kinesis system is easy to use, easy to access and gives us 24/7 visibility of the entire fleet. Automatic alarms are triggered if a boat is mobilised without permission or if a hirer inadvertently enters restricted water. This further improves the security and safety of both boat users, as well as the boats themselves."
The Minerva Boat Company has been operating for more than twenty years and has established a reputation for value and overall experience, scoring on average 4.5 / 5 on TripAdvisor. The Minerva fleet includes 18 small boats, suitable for four adults plus one child, plus 8 luxury sloops that can accommodate between 6 and 12 people.